Area Activities

Click on the links below for more detailed area info:
Most of Avery County's activities and attractions revolve around the glorious nature surrounding it. The borders of Avery County, NC run along highly significant Southern Appalachian natural landforms, providing for magnificent hiking and outdoor activities. Avery County is also home to many artists and cultural attractions, inspired by the mountain beauty and North Carolina folk heritage characteristic of the High Country.

Eastern Avery County runs along Grandfather Mountain. Experience the unique ecosystems, hiking, Mile High Swinging Bridge and wildlife habitats atop this 6000 foot peak. At the southern end of the county is the Linville Gorge, commonly known as the "Grand Canyon of the East." The rugged and untouched wilderness of Linville Gorge is an outdoor enthusiast's paradise. Linville Falls and the Linville River are also in this area. Roan Mountain is situated on the western rim of Avery County. Its many bald mountain tops are crisscrossed by the Appalachian Trail and overlook the Toe River Valley to the east and Tennessee mountains to the west. On the northern Watauga County line, Beech Mountain offers world-class skiing within the highest township east of the Mississippi River. Lacey Realty, located in Linville and Newland NC is situated in the center of the county amidst serene ridges, valleys and rivers.

Allow our team of experienced, local North Carolina Realtors help you make a lifestyle change in beautiful Avery County NC. With excellent Avery County Schools NC, friendly living environment and breathtaking scenery, we're sure you'll fall in love with the Blue Ridge Mountain culture and way of life. Avery County is a wonderful and safe place to raise a family, retire or simply call home. Browse our local listings and Homes for Sale Linville North Carolina to find your perfect NC Mountain Home today!

Attractions and Amusements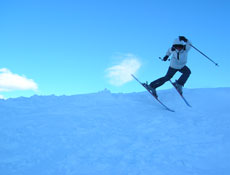 Sugar Mountain
1009 Sugar Mountain Dr
Sugar Mountain, NC 28604
828-898-4521
Sugar Mountain's 115 skiable acres make it the largest NC Ski Resort. Sure to satisfy everyone's winter appetite, Sugar Mountain features a Magic Carpet tubing area, snowboarding terrain park, 10,000 square foot refrigerated outdoor ice skating rink, snowshoeing trails, and 20 slopes connected by 8 lifts.

Ski Beech
1007 Beech Mountain Pkwy
Beech Mountain, NC 28604
828-387-2011
With 27,500 snow making lines, 15 slopes, 10 lifts and 100% night skiing on 100 skiable acres, Ski Beech is a favorite NC Ski Resort offering skiing, snowboarding, ice skating and tubing.

Grandfather Mountain
2050 Blowing Rock Highway
Linville, NC 28646
800-468-7325, 828-733-2013
Grandfather Mountain is the highest peak in the Blue Ridge Escarpment. The park is an internationally recognized biosphere with unique and fragile ecosystems. Hiking trails, wildlife habitats and Mile High Swinging Bridge are the highlights of Grandfather Mountain.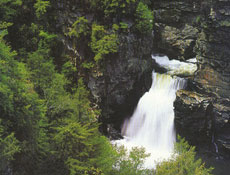 Linville Wilderness Area (Linville Gorge)
U.S. Forest Service District Ranger
(Grandfather Ranger District)
109 East Lawing Drive
Nebo, NC 28761
828-652-4841
Known as the Grand Canyon of the East, Linville Gorge has 39 miles of trails that weave in and out of the characteristic, v-shaped gorge. Bird watching, rock climbing, mountain biking and hiking opportunities in Linville Gorge are among the best in the High Country.

---

Festivals and Fairs

Avery County Fair
Heritage Park, Newland, NC
Each September, Tuesday - Friday 5:00 p.m. "until", noon "until" on Saturday, Avery County hosts the Agricultural and Horticultural Fair. Awarding prizes for the best livestock, produce, arts and crafts, pumpkins, and Fraser Fir Christmas Trees, the fair also features music, rides, games and great food for an affordable price.

Riverwalk Arts Festival
On the Riverwalk, Newland, NC
Old-fashioned arts festival with more than 50 artists offering handmade wares in a fun, riverside festival. The festival kicks off with street dance open to the public.

Grandfather Highland Games
Grandfather Mountain Highland Games is a one-of-a-kind gathering of Scottish Clans showcasing their colors, plaids and bagpipe sounds in a weekend long sports competition and cultural show. Included in the games are the grueling Bear Run and Grizzly Bike Race, both open to the public.

---

Shopping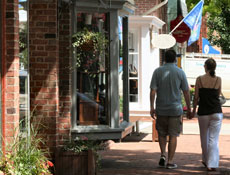 Emporium Shoppes at the Village
142 Main St E
Banner Elk, NC 28604
828-898-3378
Banner Elk's Emporium Shoppes At the Village feature a variety of fine ladies clothing retailers including BJ's Resort Wear and Almost Rodeo Drive. Baltzley's Jewelry and Bayou Store, with everything from wine to books, and Larson's Fine Furniture are among the other specialty stores at the Emporium Shoppes At the Village.

Blair Fraley Sales Store c/o The Crossnore School
100 DAR Drive
Crossnore, NC 28616
Historic Crossnore School in Crossnore features a variety of handmade, unique gifts and crafts at the Crossnore Weavers and Gallery. Briar Fraley Thrift Store is the largest resale shop in the High Country with a wide variety of donated quality new and used items. Income from the store supports Crossnore School's operating budget.

---

Wineries

Banner Elk Winery
60 Deer Run Lane
Banner Elk, NC 28604
This 20 acre blueberry farm and winery was the first commercial winery in Avery and Watauga Counties. Stay at the Blueberry Villa, host a spectacular event or simply taste the delectable wines.

If you are looking for real estate, give us a call today! If you have any questions or would like more information, please contact us at 828-733-2151 Newland location, or 828-733-5770 Linville location, email us, or use our online request form.